Philosophy
I believe that all children should be treated as individuals with their own learning styles. It is important to provide all students with the opportunity to succeed, by allowing them to feel safe and take risks in their learning. All children must be welcomed exactly as they are and their unique cultural background celebrated and acknowledged in the classroom.

I strongly believe in the French Immersion Program, having been a student in the program myself. I have witnessed the effectiveness of the program while teaching with Edmonton Public Schools and currently reap the benefit of my own learning by running programming dependent on my French language skills. Studies by Canadian Parents for French have shown that it is easier and more natural for a child to learn another language at a very early age. In the class, we speak in French with the children as much as possible to encourage a love of and interest in the French language. I am very conscious that, at first, children do not understand the language. However, in our experience, when children are provided with clear explanations using various communication strategies and provided with meaningful play activities during a consistent daily schedule, they are motivated to quickly acquire a basic understanding so that they can participate with the group.

I believe that the focus of preschool should be that the children are having fun and playing all day long. It is through such activities that they will acquire French speaking skills. In addition to all-group theme-based learning time, children will receive small group instructional time with the teacher for approximately 15 minutes each day. The remainder of the day will be based on learning through play.
About the Teacher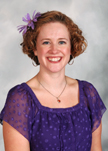 Kathryn Babowal - Teacher / Director

Madame Kathryn is a certified French Immersion elementary teacher with a Bachelor of Education, earned at the University of Alberta, through Campus Saint-Jean. She taught for Edmonton Public School Board for 2 years, teaching in the French Immersion program. Kathryn also holds a Bachelor of Arts degree, earned at the University of Alberta, with a major in Developmental Psychology and a minor in French. Kathryn is a certified dance and yoga instructor for children and has taught students of all ages. Kathryn established the preschool in January 2006 with Jill Burton (a past colleague), and they opened a second business venture together, Les Petits Soleils Before & After School Care Program, in September 2006. Kathryn has three daughters.
:: Duplication or use of any and all content on this site, without expressed consent, is strictly prohibited
:: Last Updated January 22, 2021